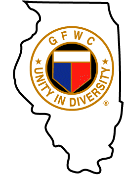 Lombard Service League
Affiliated with the General, State & District Federation of Women's Clubs
GFWC Illinois

OUR OBJECTIVE
The Objective of this club shall be charitable service to the Lombard area, the state of Illinois, and projects of the General Federation of Women's Clubs nationally and internationally.

2016-2017 REGULAR MEETING SCHEDULE
* Meetings are held at Lexington Square, 555 Foxworth Blvd., Lombard, IL *
September 8, 2016……… Kick Off Dinner A potluck dinner followed by the business meeting
October 13, 2016………... Awareness Training in a Terrorist Situation Detective Sherie Eakins from the Lombard Police Department will education us on what to do if you encounter an active shooter.
November 10, 2016……...What's New in Lombard? William Heniff, Lombard's Director of Community Development will outline the new developments occurring in the village.
December 8, 2016………. Christmas Program TBA
January, 2017……………. Happy New Year. No Regular Meeting
February 9, 2017………… GFWC Poetry Contest Winners Finalists in our annual poetry contest will be reading their poems and receiving their awards before the business portion of the meeting.
March 9, 2017……………. Soaring Eagle Academy Deanna Tyrpak, Executive Director and one of the founders of Soaring Eagle Academy will tell about Lombard's school for autistic children.
April 6, 2017……………… Woman of the Year The 2017 Lombard Woman of the Year will be announced and recognized, along with Past Women of the Year.
May 11, 2017………………Installation Dinner Installation of 2017-2018 Board Members and annual reports
Meetings every 2nd Thursday of the month at 7:00 p.m.
from September to May.
New members are welcome.
For information about membership or attending a meeting, please contact:
Lombard Service League
P.O. Box 482
Lombard, IL. 60148
Address for meetings:
Lexington Square,
555 Foxworth Blvd.
Lombard, Ill. 60148
BOARD MEETINGS
Board Meetings are held on the last Thursday of each month
For More Information
Contact
Darlene Wingard
630-627-1776
Or
Like us on Facebook
Community Projects
Outreach House
Woman of the Year
Tiaras for Lilac Princesses
Crown for Lilac Queen
Reception for Lilac Queen and Court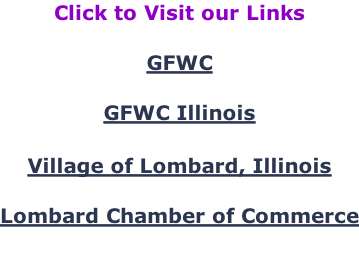 2016-2017 BOARD MEMBERS
President - Jean Nelson
Vice-President - Carol Sink
Secretary - Mary Jane Malik
Treasurer - Barb Madigan
5th District Delegate - Verlyn Schueler
Community Service - Jane Plonka
Fundraising/Philanthropies - Patty Lindstrom
Membership - Darlene Wingard
Other Appointments
Historian - Marcy Novak
Newsletter - Sally Steketee
Parliamentarian - Anna Weselak